In today's digital world, the battle for online visibility is increasingly fierce, and growing daily.
With countless websites vying for attention, businesses and individuals alike find themselves grappling with the challenge of making their online presence stand out from all the noise.
This article aims to delve into the challenges of enhancing your online visibility and present strategies to overcome them.
One of the primary obstacles is the sheer volume of online content that gets published every day.
With millions of blog posts, videos, podcasts, and social media posts, standing out is not just about creating content.
It's about creating exceptionally engaging and unique content that resonates with your audience.
The explosion of content has also led to increased competition for ranking high in search engine results, where most online visibility is derived.
The constantly evolving landscape of SEO (Search Engine Optimization) presents another significant challenge.
As search engines (especially Google) continually update their algorithms, maintaining a high search ranking becomes a moving target that requires constant attentiveness and flexibility.
Then there is the rise of mobile users to consider.
Mobile vs. Desktop Usage Nowadays
According to broadbandsearch.net, as of January 2022, mobile usage had now taken the lead, apparently at just above 55% with desktop usage taking up only 42%.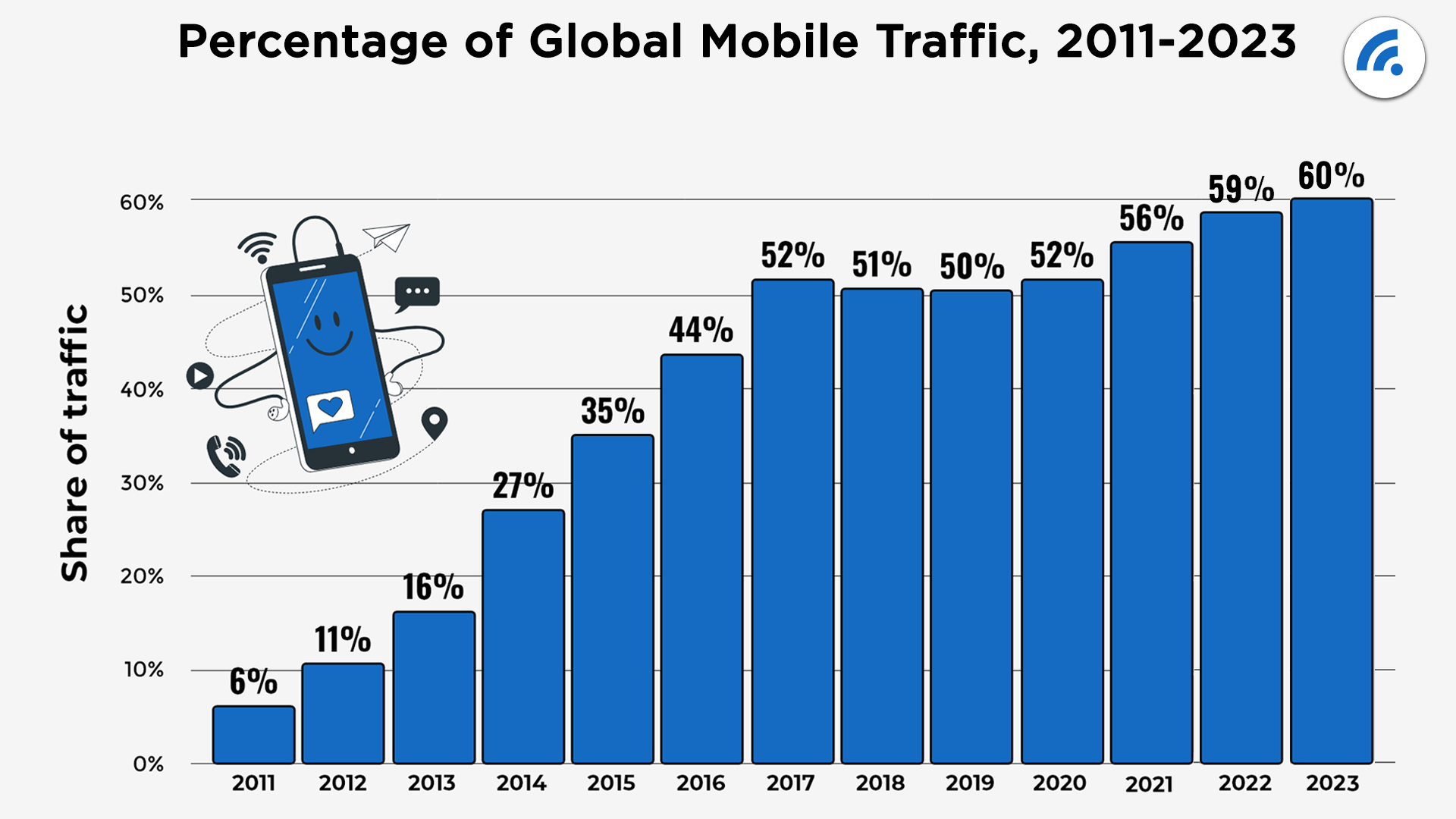 However, according to techjury.net, mobile devices now account for just under 50%, while desktop visitors remain only slightly higher than 50%.
Source: https://techjury.net/blog/mobile-vs-desktop-usage/
Suffice it to say that mobile users are on a steady increase while desktop users are slowly decreasing each and every year.
This should serve to prove to you that websites that are not mobile-friendly are risking losing out on a massive audience, in organic searches.
Credibility is Another Important Metric
Moreover, online visibility is not just about reach but also about credibility.
According to phoenixonlinemedia.com, the two most important factors when building your credibility online are trustworthiness and expertise.
Source: https://phoenixonlinemedia.com/does-website-credibility-matter/
In order to do that you need to have your website functioning as you being an authority in your niche.
With growing concerns about data privacy and the proliferation of fake news, building trust with the audience has become paramount.
Effective Strategies to Build Credibility
Having outlined the challenges, let's take a look at some effective strategies to overcome these issues.
1.) Create high-quality content: Instead of focusing on quantity, shift your attention to the quality of your content. This will help you to stand out by offering your audience real value.
Be sure to use clear, engaging language, relevant images, and maintain a consistent tone. Content that educates, entertains, or inspires tends to perform best.
Remember, the goal of your content should be to engage your audience, inspire shares, and encourage interaction.

2.) Optimize for SEO: Despite the ever-changing landscape, SEO remains crucial for online visibility, so it is more important than ever for you to be up-to-date with SEO best practices for the upcoming algorithm updates.

Use keywords effectively, optimize meta descriptions and title tags, and build only quality backlinks.

Local SEO is especially crucial for small businesses, so ensure your website is listed in local directories and be sure to use geo-targeted keywords.
3.) Mobile optimization: With the rise of mobile users detailed above, mobile optimization is no longer optional; it's mandatory.

A mobile-friendly website not only boosts your online visibility in both desktop and mobile organic searches but also improves the user experience.

It is easier than ever now to implement a responsive web design that automatically adjusts to fit the screen size of the device being used.

Also, make sure to focus on your website page load times, as speed is a ranking factor and essential for mobile users who typically have less patience for slow-loading sites.
4.) Utilize social media: Social media platforms can be powerful tools for increasing online visibility.

By regularly sharing your content on different platforms, you can engage with your audience by responding to their comments and messages, which could encourage them to share your content.

Using the right hashtags can also increase your reach though using too many hashtags could detract from their purpose.
Remember, each platform has a unique audience and etiquette, so tailor your approach accordingly.
5.) Build credibility: In a world where credibility is in short supply, building and maintaining trust with your audience can set you apart from your competition.

So, be sure to be transparent, authentic, and consistent.

TIP: Make sure your site is secure (HTTPS) and respects your user's privacy.

Show off customer reviews and testimonials, and quickly address any negative feedback or issues on reviews posted anywhere online.
You can setup Google alerts to help you stay up-to-date responding to reviews and testimonies posted online.
How to Setup and Use Google Alerts
6.) Monitor and adapt: The digital landscape is continually evolving, so regular monitoring of your strategies is essential.

Use analytics to track your performance, identify what works and what does not, and then adjust your strategies accordingly.
How to Use Google Analytics to Measure Your Website Performance
Be willing to adapt and evolve. Increasing online visibility is a challenging task in today's saturated digital landscape.
This requires constant vigilance, adaptability, creativity, and a deep understanding of your audience.
By focusing on:
creating high-quality, valuable content,
optimizing for SEO, catering to mobile users while still being effective for desktop users,
actively and effectively using social media,
building credibility, and
continuously monitoring and adapting your strategies,
…not only can you increase your online visibility but you could also foster a loyal, engaged audience.
Remember, the goal is not to be seen by more people, but to be remembered by those who have seen you.
In the end, true online visibility is about creating a meaningful, lasting connection with your audience.