How websites are being ranked this year is all based on a simple SEO strategy which is NOT devious nor is it black hat in nature.
If you want your website to rank high, then I recommend you do the following strategies listed here and fix whatever you discover is lacking with your website.
1.) First, I recommend you do an audit on your website.
a.) Find any potential penalties your site may have suffered based on historical traffic.
b.) Check to see if you may have over optimized your website. An example would be to check your website's anchor text for over optimization on any keyword. This could cause Penguin penalties (introduced in April 2012).
Another example might be that your content is too thin (not enough content) which would be a Panda penalty (introduced in May 2014)… or maybe your website is still not mobile-friendly (a Google ranking update introduced in, April 2015).
c.) Look for anything out of the ordinary that may be preventing your website from receiving best results.
A great tool you can use to discover these types of issues is SEMRush.
2.) Now you need to look for easy wins. This means looking for keywords that your website is already targeting and ranking for but your site isn't ranking at the top of Google. As long as Google feels that your site is relevant for that search result (let's say Google page 4-30) you have an opportunity to improve your rank for that keyword.
For example, find keywords that your site ranks on Google pages 4 to 30 with a cost per click (CPC) value of from 25¢ to $3.50, and with traffic from between 300 monthly searches all the way up to 8,600 searches a month.
These are the hidden treasures that you need to uncover, as they are so much easier to boost up in rank rather than starting from scratch.
The following is my favourite Keyword tool. You can give it a try for 30 free searches.
3.) Then it is time to look for those keywords that your competitors are targeting and that your website is not. And then develop ideas for, and create content around those keywords. This is known as a content gap analysis.
You could use SpyFu.com for this task.
Armed with this information you are now ready to build campaigns, which includes building quality links (external and internal) and creating and offering quality, unique content. This will help your website create authority in Google's "eyes". This will get your website real results that won't take years for you to develop.
Doing this on a regular basis and continually tweaking your website to constantly improve your site's ranking… will work like magic!
What you need to be aware of is that it is vital for your website to have a good amount of quality content, yes… but links make the site actually rank.
So, by selecting target pages and building diverse links, you can get great results as seen in the chart below.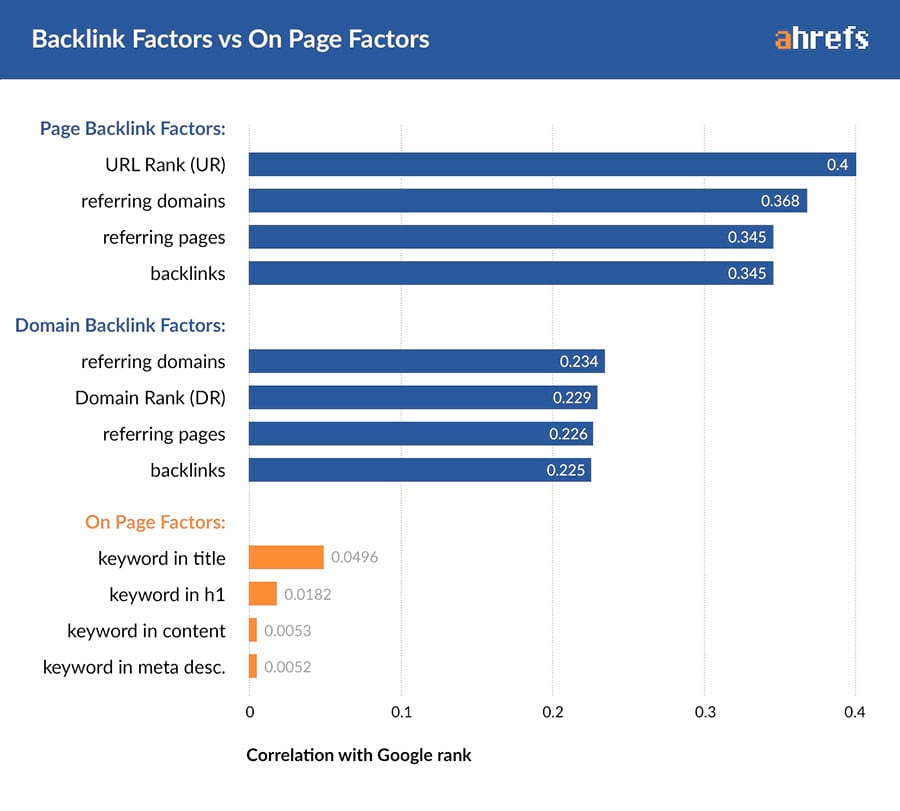 The ahrefs.com chart clearly shows the comparison of backlinking verses on-page, proving the value of links.
Local Citation
There is also local citation for business listings to be considered, which is another great SEO tool… providing your citations are done correctly.
There are many directories out there that you can list your business with, just make sure your listings are consistent (the exact same).
For example, if you list your business as being in your province and you use the abbreviated form of your province rather than spelling your provincial name in full, make sure you do the same with EACH and EVERY directory listing for your business… being consistent with your listings truly is the key to success when using local citations.
By following this advice you should see improved results within 90 days. If not, then you need to take a look at your website again to see what you may have missed in your first audit.
You may find that you need to add content for contextual relevance, especially if your website was one that was hit by the Panda penalty for thin content. If that is the case with your website, then by adding say, 8 new relevant posts with at the very least1000 words each, this could make your site rank improve quicker.
Sometimes Google only wants to see that your website is an authority in your chosen niche, so adding relevant content regularly really is vital.
If you are stuck for ideas, you can write about pricing misconceptions in your industry if you so wish… that and even details on the products you sell or services you offer, and then link that to your product or service pages. These are ideas you can use in offering content that will help your site rank better.
The other thing you need to remember is to have patience.
Sometimes it may take upwards of 6 months to see improvements. The usually benchmark or target to see improvement is 90 days but that doesn't always pan out… and, it truly does depend on each website as to how long you will need to wait to see the improvement you are looking for.
In Review
1.) Adding long form content consistently, month after month WILL work wonders in any niche!
2.) It is important to look at the site history and to be critical of what causes penalties.
3.) Make sure you have a well diversified variety of links. This alone could bring a website back from being penalized to being ranked well once again.
4.) Patience is necessary when waiting to see results for your efforts, as a site could show improvement as quickly as 90 days or as long as 6 months, depending on the website.
Using this strategic process and doing consistent building, you can get killer results, regardless of whether your website is for a local business, eCommerce, affiliate or any other type of website.
Conclusions
Audits – Review past issues that might be preventing your website ranking well.
Keywords – Uncover hidden potential in rankings on search results pages 4 to 30.
Content Gap – Discover your competition's keywords and create quality, unique content using those keywords without over using them.
If a campaign isn't working for you, sometimes a simple switch is all it will take to make a difference. Ideas for switches might be: adding a blog with content to the site, adding high domain authority links, and giving your work time to prove fruitful.
My Suggestion
If you are looking for a SEO managed service where these strategic techniques are applied to your website for you then, please read on.
Hiring this type of service done for you would be the best way to get your website ranking, traffic, and to become the authority in your given niche while keeping thing looking natural and not "stuffed".
So now, instead of piecing together these strategies yourself, I suggest a great, dedicated team you can hire (yes, my affiliate link) to execute this authority plan for your website so that you can get the best results possible.
Here is what you will get:
advanced SEO strategy,
keyword research done for you to find those easy wins,
as well as a competitive gap analysis,
a dedicated campaign manager,
authority link building,
strategic content development,
and white label reporting… all done for you!
If in doubt, here is evidence that this service works… check out the following graphs below for the many different types of websites. Each showing marked improvement after hiring this service!
My question to you is this… Will your website be displayed on a chart like these soon?
Sources
https://en.wikipedia.org/wiki/Google_Penguin
https://en.wikipedia.org/wiki/Google_Panda
https://www.copyblogger.com/google-mobile-friendly/