The economic slow down, has led to a major drop in foot traffic for most local businesses, while causing a major increase in internet traffic. These new buying habits will linger long after the end of the this down turn.
Internet traffic is now more important to businesses than ever before.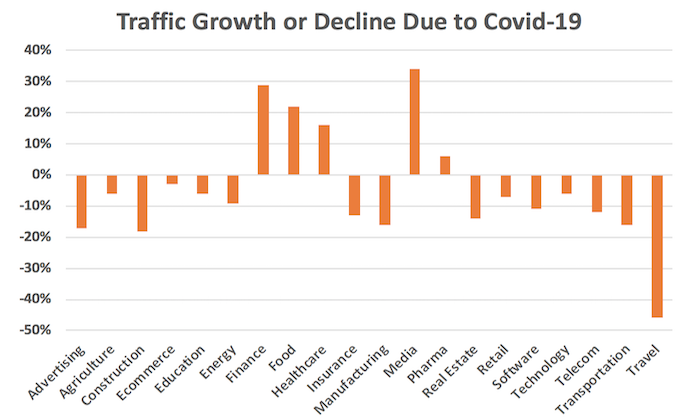 A local business owner might have noticed a decline in inquiries from their website. To save money, the owner turns off advertising and then notices inquiries decline even more and they go bankrupt.
On the other hand, you keep your profitable ads running and end up with even MORE clients as others go bankrupt.
Smart business owners are buying digital advertising because it's more effective than traditional advertising.
Why?
Because they get a benefit NOW, not a potential benefit in the future.
The internet is all about content and without content there is NO internet. If you want your business to be seen online then you need content.
According to fannit.com1, the best return of investment when compared with Google Adwords, Facebook ads, social media, and other… there is a distinct advantage to Content Marketing.
What my media marketing service does is produce content in different media formats for any business and publish it on major, big brand sites, allowing your business to gain more attention.
Just like major celebrities and big businesses are being mentioned all over the internet in blog posts, videos, podcasts, etc. We do the same thing on a smaller scale for small businesses, which in turn brings them a lot more traffic and sales.
Canadian local business owners need to understand that though many of the media sites we use are located in the States, the YouTube servers are also located there. And, I'm sure you are aware that you are credited with links to your website from the YouTube server, correct? So too your business will gain credit for all media links we can create for you.
Quite simply, when you hire us to do your digital advertising for you, you would be advertising your website across the internet on high traffic blogs, video sites like YouTube, podcast sites, SlideShare, and news sites like USAToday and Google News.
According to manifest.com2 nearly 90% of small businesses advertise with a large proportion still being spent on traditional advertising that is typically less effective and more expensive than our digital advertising offer.
Many small business owners have not made the leap to online advertising at all. So, don't you be left in the dust while your competition gains an advantage by using digital marketing.
If you do not have a website, create a Google MyBusiness account that we can use.
With foot traffic having plummeted due to so many lockdowns and online traffic increasing, as a business owner, you must realize by now just how important the internet is to your success.
Waiting for things to return to normal is most likely a mistake for many small businesses as most businesses will not survive the wait.
For some businesses spending money on marketing won't be possible.
For others, strategic spending will be critical.
And, for those in growing industries, they will need to invest heavily in marketing in order to secure sales against their competition.
So, how are you doing during this economic slowdown?
As you know, things are really tough right now given so many lockdowns over the past year and half, making things very difficult for you.
What is important is making the right decisions to get through this crisis as best you can and put yourself in the leading position coming out of it.
Do you think there will still be a demand for your business when the crisis is over?


During this crisis, what ways can you still make money and keep the doors open?


Who are your best and most profitable clients during a crisis? What if we could get more of those clients for you?
Historically, crisis are short, and when this one finally ends what position would you like your business to be in?
Don't be shy. Contact me and let's talk… or fill in the form halfway down this page today, so that we can get started helping you.
1. See Return on Marketing Spend chart – https://www.fannit.com/seo/seo-vs-sem/
2. Their Findings – https://themanifest.com/advertising/small-business-advertising-2019